Management of Peritonitis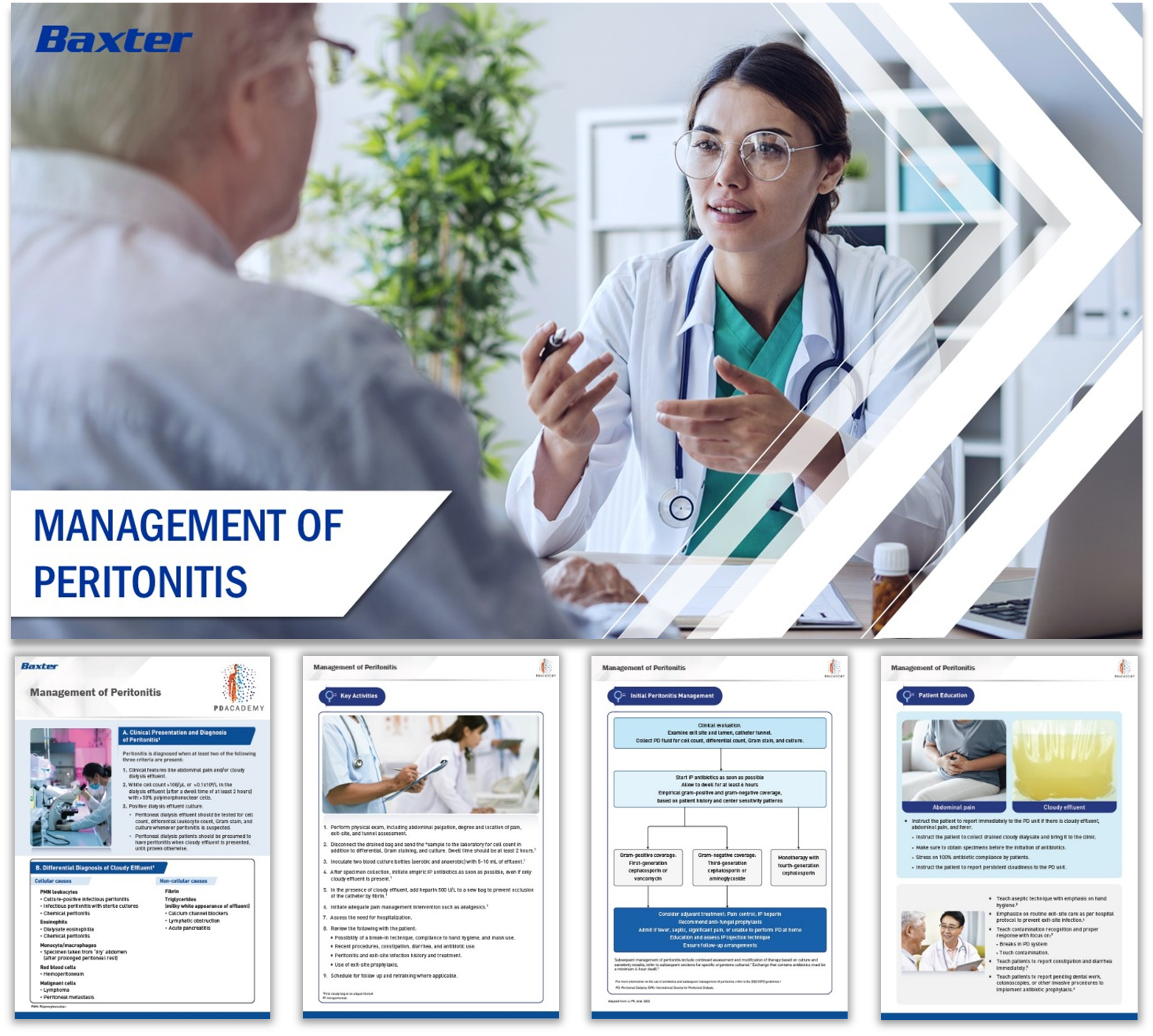 Click in to learn more about: 
The clinical presentation and diagnosis for peritonitis
Initial management of peritonitis 
Educating patients on prevention of peritonitis
Indications for peritoneal catheter removal 
Measuring, monitoring, and reporting peritonitis for your facility
Adapted from the latest ISPD guidelines 2022
Management of Exit-site Infections
Click in to learn more about:
Definition of exit-site infection
Classification of exit-site
Diagnosis and management of exit-site/tunnel infections
Exit-site scoring system
Educating patients on taking proper care of their exit-sites
Monitoring, and reporting exit-site infections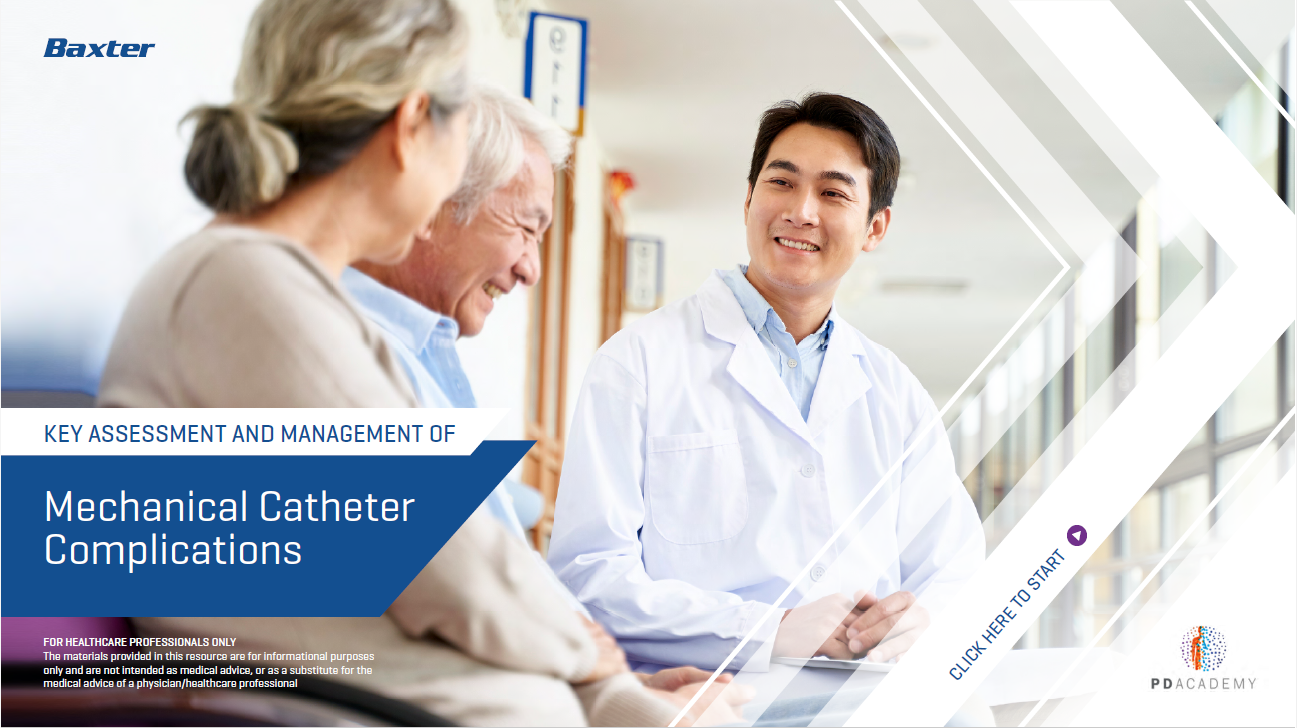 Management of Mechanical Catheter Complications
This Key Assessment: Mechanical Catheter Complications interactive guide was developed based on a review of current medical literature and the recommendations by the International Society for Peritoneal Dialysis (ISPD). It aids clinicians in performing assessments to identify and manage catheter complications. By its nature, this guide is non-exhaustive and should not replace the independent clinical judgment of the healthcare provider.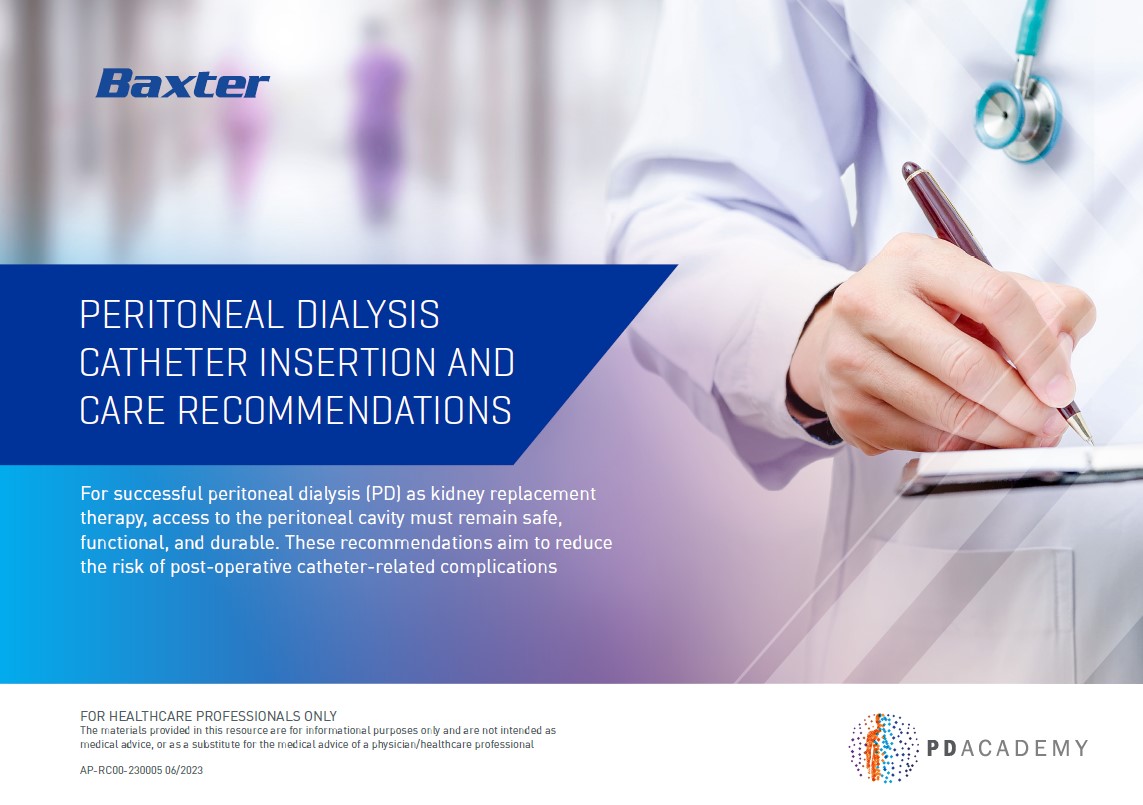 Peritoneal Dialysis Catheter Insertion and Care Recommendations
For successful peritoneal dialysis (PD) as kidney replacement therapy, access to the peritoneal cavity must remain safe, functional, and durable. These recommendations aim to reduce the risk of post-operative catheter-related complications.
The document is divided into 4 different sections: exit site placement, pre-operative recommendations, post operative exit-site care and long-term care of the exit site
It is developed based on a review of current medical literature and the recommendations by the International Society for Peritoneal Dialysis (ISPD)
By its nature, this guide is non-exhaustive and should not replace the independent clinical judgment of the healthcare provider